Legal
Terms & Policies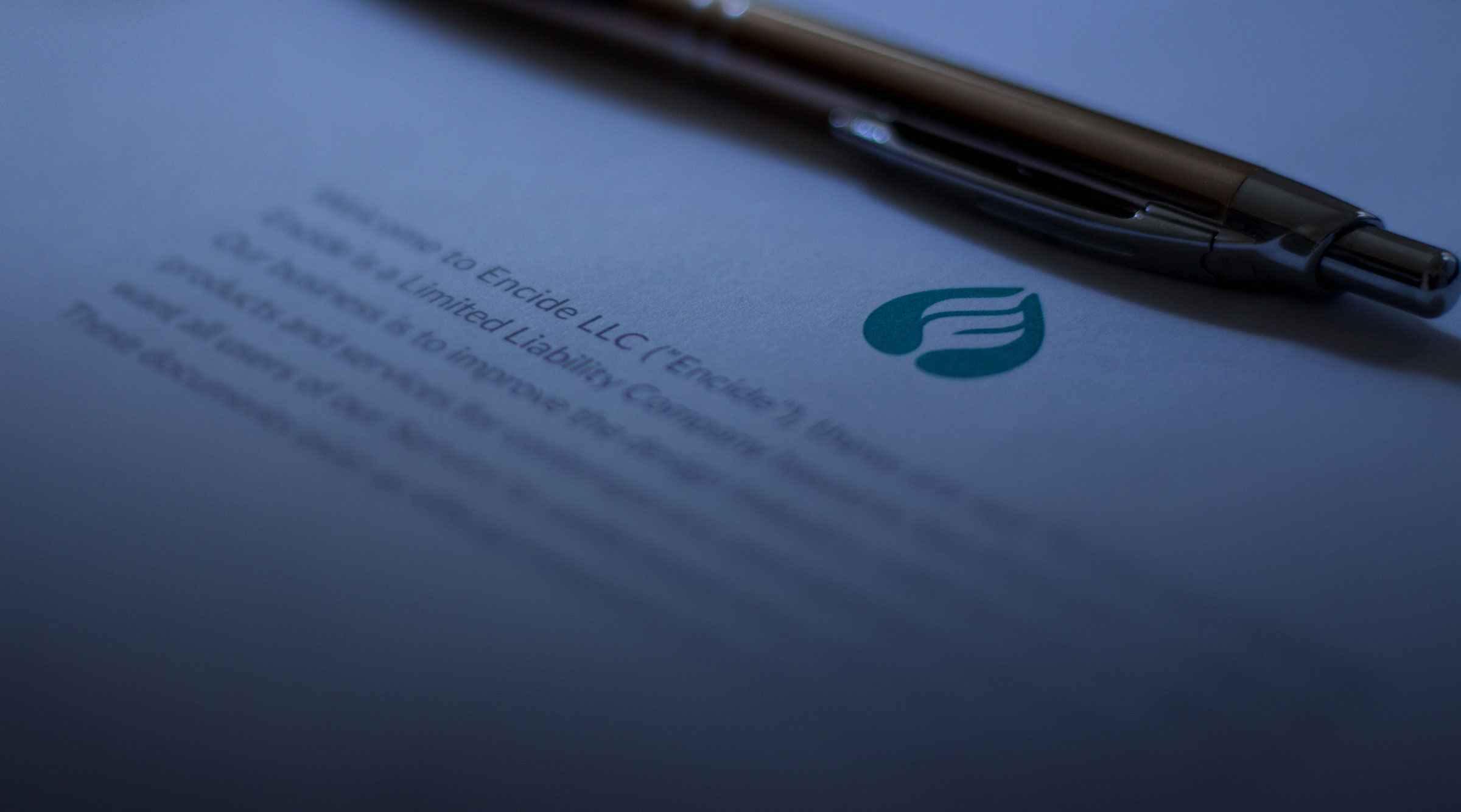 Encide's all-in-one legal document includes our (1) Terms of Use, (2) Privacy Policy, and (3) Copyright Policy. By registering for an Account or Using Encide Services or Products in any way, you must Agree to our Terms. We (at "Encide LLC") keep all of our documents both legally sound and readable for humble folks and litigators. Definitions, indexes and alternatives for the Uppercase words used within our Terms, Policies and all other fine prints are listed after the third and final document. Contents and Materials made available for Use from Encide's Websites, Services and Products are Copyright © 2008-2020, by Encide LLC, unless otherwise noted.

Effective
As of May 26th, 2016, Encide ("Encide LLC") has revised and put into effect the (1) Terms of Use, (2) Privacy Policy, and (3) Copyright Policy. View our amendments.

Updates
We reserve the right for each document, at our sole discretion, to be updated at any time without prior notice. You are encouraged to review these documents regularly for any changes. We may, as a courtesy, deliver emails to registered Users when notable amendments or updates are published that may be directly applicable to their Accounts. The modification dates are stored in the alt & title attributes of the section headings. Without guarantees, requests for previous versions may be made available if asked for. Newly added features, Services, Products and all other Encide operations are subject to these Terms and Policies.
Table of Contents
Terms of Use
1.0) Terms of Use
Welcome to Encide (also referred to as "Encide LLC", "Encide, LLC", or "encide"), these are our Terms of Use (also referred to as "Terms", "ToU", "Terms of Service", "ToS", "Terms & Conditions", "T&C", "Service(s)", "User Agreement", "Agree", or "Agreement"). Please read these Terms carefully and review them often. These Terms of Use govern all Usage of all Encide owned Websites and all Content, Services, and Products available at or through the Website, including, but not limited to, the blog, the forums, User comments and passive participation, related social media Content, Original Content or media (videos, audio, digital downloads, etc.), events, meetups, streams, contracts, any Products or Goods from the Shop, and any Materials that Encide may operate with, to any degree, as a business entity.

1.1) Acceptance
By Using or visiting the Encide Website, Products, or Services, you must agree to our Terms of Use. It is your responsibility to understand and accept this document as well as our Privacy Policy. If you do not Agree to our Terms of Use or Privacy Policy, please to not Use or visit the Encide Website, Products, Services or any other operations under the business. By continuing to Use the Site after any updates to these documents, your Agreement to these Terms and Policies are sustained. While updates to these documents may be rare and minor, it is ultimately your responsibility, as a User of the Service, to know and Accept our Terms. You also confirm that you are at least 18 years of age, an emancipated minor, or you have the consent of a legal parent or guardian in order to understand and Accept these Terms and Policies. You must be at least 13 years of age in order to Use Encide's Websites, Services, or Products. This Service is not intended for children under 13. The Service is controlled, operated and administered by Encide from our offices within the United States of America (USA) in the state of California. If you access the Service from a location outside the USA, you are responsible for compliance with all local laws. You Agree that you will not use the Encide Content accessed through Encide Websites in any country or in any manner prohibited by any applicable laws, restrictions or regulations.

1.2) Accounts
To access some features of the Encide Website, Products, and Services, you will have to create an Account. We may store and Use Your Information, including a required email address and username, as well as optional Data including websites and social media account identifiers. Please review our Privacy Policy to understand how Your Information is stored, Used, and protected. Account owners are required to select a username. We reserve the right to prevent certain usernames from being available, as well as existing usernames to be altered at our discretion. Usernames are not allowed to be changed by the Account owner. Failing to comply with the Terms of Use in any way may result in your Account being banned or deleted. We reserve the right to take down any Accounts that do not comply with our Code of Conduct or that are involved in any unlawful activities. You may not Use another User's Account without their definitive permission, and you must provide accurate Information when populating your profile details. You hold responsibility for any activity or User-generated Content that occurs through your Account. If your Account is compromised, it is your responsibility to contact us with evidence to restore your control. Encide is not liable for conduct caused by unauthorized activity on your Account, and you may be liable for any damages made by your Account, with or without your consent over the activities.

1.3) Community
Participating in the Encide community requires that you respect our Community Guidelines. These apply mostly to the forum as well as the blog comment section. We value our Users and the quality discussions between them. Users who do not follow these basic Guidelines often have toxic intentions and do not belong in our dialogues. This Website is privately owned, and we support free speech up until the moment that it creates a hostile environment for other Users. We reserve the right to remove anyone who breaks any of these rules, without explanation. Encide is a business, and even Paying customers who break these rules are subject to the same consequences. Being decent towards others and following these Guidelines ("Code of Conduct") will maintain your Account's good standing.
Respect your ideas and the rest of the community by always using a spell checker.
No immature, juvenile, or trolling behavior towards other users or the staff at Encide.
No racism, bigotry, homophobia, hate speech, or blatant, willful ignorance (zero tolerance policy).
No spam or wasteful posting. Do not treat the forum like an instant messaging chat room. Quality over quantity.
Review your writing at least twice before posting it. Users have a tendency to frequently delete or edit careless posts.
We are ultimately a design-centered community. We encourage that design remains the primary frame for most discussions.
Do not post when you are in a bad mood. Angry, toxic, and negative posting is unwelcome (with feasible exception to the rant thread).
Most importantly, please show decency towards the small team on staff. We work hard, for free, to keep this place both friendly and useful.
Below is the original registration agreement from encide.net's (SMF) forum. Users who have activated their previously existing accounts were originally requried to agree with the following terms on our first website. By using Encide's new Service, Users are required to Agree with the new Terms in this document.


Original "Registration Agreement" from encide.net, powered by SMF (since April 14th, 2008):

You agree, through your use of this forum, that you will not post any material which is false, defamatory, inaccurate, abusive, vulgar, hateful, harassing, obscene, profane, sexually oriented, threatening, invasive of a person's privacy, adult material, or otherwise in violation of any International or United States Federal law. You also agree not to post any copyrighted material unless you own the copyright or you have written consent from the owner of the copyrighted material. Spam, flooding, advertisements, chain letters, pyramid schemes, and solicitations are also forbidden on this forum.

Note that it is impossible for the staff or the owners of this forum to confirm the validity of posts. Please remember that we do not actively monitor the posted messages, and as such, are not responsible for the content contained within. We do not warrant the accuracy, completeness, or usefulness of any information presented. The posted messages express the views of the author, and not necessarily the views of this forum, its staff, its subsidiaries, or this forum's owner. Anyone who feels that a posted message is objectionable is encouraged to notify an administrator or moderator of this forum immediately. The staff and the owner of this forum reserve the right to remove objectionable content, within a reasonable time frame, if they determine that removal is necessary. This is a manual process, however, please realize that they may not be able to remove or edit particular messages immediately. This policy applies to member profile information as well.

You remain solely responsible for the content of your posted messages. Furthermore, you agree to indemnify and hold harmless the owners of this forum, any related websites to this forum, its staff, and its subsidiaries. The owners of this forum also reserve the right to reveal your identity (or any other related information collected on this service) in the event of a formal complaint or legal action arising from any situation caused by your use of this forum.

You have the ability, as you register, to choose your username. We advise that you keep the name appropriate. With this user account you are about to register, you agree to never give your password out to another person except an administrator, for your protection and for validity reasons. You also agree to NEVER use another person's account for any reason. We also HIGHLY recommend you use a complex and unique password for your account, to prevent account theft.

After you register and login to this forum, you will be able to fill out a detailed profile. It is your responsibility to present clean and accurate information. Any information the forum owner or staff determines to be inaccurate or vulgar in nature will be removed, with or without prior notice. Appropriate sanctions may be applicable.

Please note that with each post, your IP address is recorded, in the event that you need to be banned from this forum or your ISP contacted. This will only happen in the event of a major violation of this agreement.

Also note that the software places a cookie, a text file containing bits of information (such as your username and password), in your browser's cache. This is ONLY used to keep you logged in/out. The software does not collect or send any other form of information to your computer.


1.4) Content
Our Service allows you to provide and contribute Information including text, graphics, videos, links, and all other Content or Materials. You are responsible for all Content and Information that you post through our Service. This includes the lawfulness, quality, honesty, integrity, and pertinence of the Information. By posting Content on or through the Service, you represent and warrant that: (I) the Content is yours (you own it) and/or you have the right to use it and the right to grant us the rights and license as provided in these terms, and (II) that the posting of your Content on or through the Service does not violate the privacy rights, publicity rights, copyrights, contract rights or any other rights of any person or entity. We reserve the right to terminate the Account of anyone found to be infringing on a copyright. You retain any and all of your rights to any Content you submit, post or display on or through the Service and you are responsible for protecting those rights. We take no responsibility and assume no liability for Content you or any Third Party posts on or through the Service. However, by posting Content using the Service you grant us the right and license to Use, modify, publicly perform, publicly display, reproduce, and distribute such Content on and through the Service. You agree that this license includes the right for us to make your Content available to other Users of the service, who may also use your Content subject to these Terms. Encide has the right but not the obligation to monitor and edit all Content provided by Users. In addition, Content found on or through this Service are the property of Encide or is used with permission. You may not distribute, modify, transmit, reuse, download, repost, copy, or use said Content, whether in whole or in part, for commercial purposes or for personal gain, without express advance written permission from us.

1.5) Language
Encide is an English-speaking Website (or rather, a mostly-English-typing Website). If English is not your first language, please just try your best to understand and communicate. You can speak other languages with Members in moderation or for translational purposes, but please don't do it frequently enough to where it cuts off the majority of the forum from understanding what you are talking about. Feel free to use the personal messaging system for non-English, casual conversations. Try to avoid posting in a foreign language that most people wouldn't care to read. Profanity is also discouraged on this Website. Encide is a professional group, and while we encourage casual conversations, harsh language should be used within considerate moderation.

1.6) Plagiarism
As a design community, we are naturally against the criminal and unethical act of ripping. "Ripping" is an act of plagiarism or stealing, where one uses the Work of another, and misleadingly claims the original Author's efforts as their own. Users of this Website who are found to be rippers after a feasible amount of evidence has been provided might have their Accounts terminated at our discretion. Without obligation, we may offer assistance to individuals who have had their original Work(s) stolen by allowing for evidence to be posted or shared on our Service (within reason). Encide is released of any legal action involving plagiarism between Users, whether we are aware of the incidents or not. We strongly encourage crediting original Sources. Our culture is to respect and support original Creators.

1.7) Termination
Encide may immediately terminate your access to any and all aspects of our Website at any moment, with or without cause or notice. If you wish you end your Agreement with Encide, you may cease of Use of our Services and Products indefinitely. Returning to any Encide operated Products or Services will renew your Agreement with our Terms. Accounts that have remained inactive for significant periods of time may be subject to removal during database cleanups and purges. This is especially relevant to Accounts that have been granted forum access. Key efforts such as contributing considerable amounts of quality posts can secure an Account from deletion. Without guarantee, Users who have sustained an active period within the community are unlikely to face termination. Our discoveries or suspicions regarding the following activities by an Account holder may result in immediate termination without notice at our sole discretion:
Using another User's Account without their explicit permission
providing false or inaccurate Information when registering an Account
attempting to, or harassing, abusing or harming another person or group
interfering or attempting to interfere with the proper functioning of the Service
Using the Service for any unlawful purpose or for the promotion of illegal activities
publishing or linking to malicious Content intended to damage or disrupt another User's browser or computer
bypassing any robot exclusion headers or other measures we take to restrict access to the Service through any Encide operations
making any automated Use of the system that is unreasonable or a disproportionately large load on our servers or Network infrastructure
posting Information that is abusive, threatening, obscene, defamatory, libelous, or racially, sexually, religiously, or otherwise objectionable and offensive
1.8) Demeanor
You are solely responsible for your actions and behaviors on our Website. Engaging in feuds with other Users with whom you have contact with is independent of the Encide Service. Without obligation, we may manage, observe, or monitor disputes between you and other Users of our Website. Encide, when requested, will cooperate fully with law enforcement agencies regarding investigations into alleged illegal activities on the internet through our Services. You agree to release Encide of any entanglement regarding disputes between you and one or more Users of Encide, whether we are aware of the disputes or not.

1.9) Purchases
By Purchasing a Product through Encide's online Shop, or through any other means, you agree to the following Terms. You cannot cancel an order for a Product once the order has been submitted. Encide cannot guarantee the continued availability of Products or Services office in our sites. Once any order for a Product or Service is completed, and your Payment has been accepted, you will acquire a non-exclusive license to use the Products or Services with adherence to any addition Terms specific to those purchases. Lastly, ownership of all Products remains with the seller unless otherwise agreed upon through a legal and mutual agreement. By purchasing any Products or Services made available through our Website, you may be asked to provide Payment, shipping, contact, and personal Information. You represent and warrant that: (I) you have the legal right to use any credit card(s) or other payment method(s) in connection with any Purchase; and that (II) the Information you supply to us is true, correct and complete. The Service may employ the Use of Third Party Services for the purpose of facilitating Payment and the completion of Purchases. By submitting Your Information, you grant us the right to provide the Information to these Third Parties subject to our Privacy Policy. We reserve the right to refuse or cancel your order at any time for reasons including but not limited to: Product or Service availability, errors in the description or price of the Product or Service, error in your order or other reasons. We may refuse or cancel your Order(s) if fraud, unauthorized, or illegal transactions are suspected. With regards to Encide's digital Product Purchases, the following Usage Rights and rules must apply unless clearly noted on a specific Product's page:
You may not use purchased digital assets for commercial purposes.
Recreations should include author credits. We are happy to share your work too!
You may not publish any element of a digital purchase without attributing visible credits.
You may not redistribute any purchased files for any purpose without recieving written permission.
Unless otherwise stated, you will be granted unlimited downloads for purchases (even after any updates).

You must be logged in for the download link to appear and work. Purchase links only work for verified accounts.
1.10) Refunds
We do not offer refunds on digital Products as they cannot be returned and the value has already been transferred. We also do not provide refunds on physical Products at this time. If you experience any problems with receiving a digital download, or if you are unhappy with your Purchase, please contact us for support. Potential amendments to these Terms will not apply to previous Purchases of Products or Services, digital or physical, unless otherwise noted. If you believe your Purchase is damaged, missing, wrong, or defective, contact us so that we can make it right. Errors can happen, and we want the chance to keep you as a Customer.

1.11) Promos
Any contests, sweepstakes or other promotions (collectively, "Promotions") made available through the Service may be governed by rules that are separate from these Terms. If you participate in any promotions, please review the applicable rules as well as our Privacy Policy. If the rules for a promotion conflict with these Terms, the promotion rules will apply first, and all other non-conflicting Terms will remain active.

1.12) Piracy
All Content is provided to you "as is." You may access Content for your consumption and personal Use solely as intended through the provided functionality of the Service and as permitted under these Terms. You shall not download any Content unless you see a "download" or similar link displayed by Encide on the Service for that Content. You shall not copy, reproduce, make available online or electronically transmit, publish, adapt, distribute, transmit, broadcast, display, sell, license, or otherwise exploit any Content for any other purposes without the prior written consent of Encide and/or the respective licensors of the Content. Encide and its licensors reserve all rights not expressly granted in and to the Service and the Content. You may not share, redistribute, or duplicate any files associated with a Product or Service Purchase that you have completed. Piracy and file sharing of copyrighted Content by Encide or their respective owners is strictly forbidden.

1.13) Links
As part of the Service, Encide may provide you with convenient links to Third Party website(s) ("Third Party Sites") as well as Content or items belonging to or originating from Third Parties (the "Third Party Applications, Software or Content"). These links are provided as a courtesy to Service subscribers. Encide has no control over Third Party Sites and Third Party Applications, Software or Content or the promotions, materials, information, goods or services available on these Third Party Sites or Third Party Applications, Software or Content. Such Third Party Sites and Third Party Applications, Software or Content are not investigated, monitored or checked for accuracy, appropriateness, or completeness by Encide, and Encide is not responsible for any Third Party Sites accessed through the Site or any Third Party Applications, Software or Content posted on, available through or installed from the Site, including the content, accuracy, offensiveness, opinions, reliability, privacy practices or other policies of or contained in the Third Party Sites or the Third Party Applications, Software or Content. Inclusion of, linking to or permitting the use, service or installation of any Third Party Site or any Third Party Applications, Software or Content does not imply approval or endorsement thereof by Encide. If you decide to leave the Site and access the Third Party Sites or to use or install any Third Party Applications, Software or Content, you do so at your own risk and you should be aware that our Terms and Policies no longer govern. You should review the applicable Terms and Policies, including Privacy and Data gathering practices, of any site to which you navigate from the Site or relating to any applications you use or install from the site.

1.14) Emails
For contractual purposes, you (I) consent to receive communications from Encide in an electronic form via the email address you have submitted; and (II) agree that all Terms of Use, Agreements, notices, disclosures, and other communications that Encide provides to you electronically satisfy any legal requirement(s) that such communications would satisfy if it were in writing. The foregoing does not affect your non-waivable rights. We may also use your email address, to send you other messages, including Information about Encide and special offers. You may opt out of such email by changing your Account settings or manually requesting removal.

1.15) Privacy
You are required to understand, track, and Agree to Encide's Privacy Policy. You understand that any internet transmissions may never be completely secure or private. We are committed to protecting your Privacy within our ability. You understand that any Information you send may be intercepted by others, even if that Information is encrypted. We cannot technically guarantee that any Information is unquestionably safe, and you Use this Service with that understanding.

1.16) Indemnity
To the extent permitted by applicable law, you agree to defend, indemnify and hold harmless Encide, its parent corporation, officers, directors, employees and agents, from and against any and all claims, damages, obligations, losses, liabilities, costs or debt, and expenses (including but not limited to attorney's fees) arising from: (I) your use of and access to the Service; (II) your violation of any term of these Terms of Service; (III) your violation of any Third Party right, including without limitation any copyright, property, or privacy right; (IV) any claim that your Content or your use of Encide Content caused damage to a Third Party; (V) any and all of the above, where such circumstance involved a different person using your Account and/or password. This defense and indemnification obligation will survive these Terms of Service and your use of the Service.

1.17) Inaccuracies
We are constantly updating Product and Service offerings on the Service. We may experience delays in updating Information on the Service and in our advertising on other websites. The Information found on the Service may contain errors or inaccuracies and may not be complete or current. Products or Services may be mispriced, described inaccurately, or unavailable on the Service and we cannot guarantee the accuracy or completeness of any Information found on the Service. We therefore reserve the right to change or update Information and to correct errors, inaccuracies, or omissions at any time without prior notice.

1.18) Intellectual
This Agreement does not transfer from Encide to you any Encide or Third Party intellectual property, and all right, title, and interest in and to such property will remain (as between the parties) solely with Encide. Encide, and all other trademarks, service marks, graphics and logos used in connection with Encide, or our Services, are trademarks or registered trademarks of Encide or Encide's licensors. Other trademarks, service marks, graphics and logos used in connection with our Services may be the trademarks of other Third Parties. Your Use of our Services grants you no right or license to reproduce or otherwise use any Encide or Third Party trademarks. No transfer of Encide's patents, copyrights, trademarks, or trade secrets are granted through Use of our Services unless mutually agreed upon.

1.19) Warranty
This Service, is provided "as is," without warranty of any kind. Without limiting the foregoing, Encide expressly disclaims all warranties, whether express, implied or statutory, regarding the Service including without limitation any warranty of merchantability, fitness for a particular purpose, title, security, accuracy and non-infringement. Without limiting the foregoing, Encide makes no warranty or representation that access to or operation of the Service will be uninterrupted or error free. You assume full responsibility and risk for loss resulting from your downloading and/or Use of files, Information, Content or other Material obtained from the Service. Some jurisdictions limit or do not permit disclaimers or warranty, so this provision may not apply to you.

1.20) Limitation
In no event shall Encide, its officers, directors, employees, or agents, be liable to you for any direct, indirect, incidental, special, punitive, or consequential damages whatsoever resulting from any (I) errors, mistakes, or inaccuracies of Content, (II) personal injury or property damage, of any nature whatsoever, resulting from your access to and Use of our Services, (III) any unauthorized access to or Use of our secure servers and/or any and all personal Information and/or financial Information stored therein, (IV) any interruption or cessation of transmission to or from our Services, (V) any bugs, viruses, trojan horses, or the like, which may be transmitted to or through our Services by any Third Party, and/or (VI) any errors or omissions in any Content or for any loss or damage of any kind incurred as a result of your Use of any Content posted, emailed, transmitted, or otherwise made available via the Services, whether based on warranty, contract, tort, or any other legal theory, and whether or not Encide is advised of the possibility of such damages. The foregoing limitation of liability shall apply to the fullest extent permitted by law in the applicable jurisdiction. You specifically acknowledge that Encide shall not be liable for Content or the defamatory, offensive, or illegal conduct of any Third Party and that the risk of harm or damage from the foregoing rests entirely with you. The Service is controlled and offered by Encide from its facilities in the United States of America (USA) in the state of California. Encide makes no representations that the Service is appropriate or available for Use in other locations. Those who access or use the Service from other jurisdictions do so at their own volition and are responsible for compliance with local law.
Privacy Policy
2.0) Privacy Policy
We, at Encide (also referred to as "Encide LLC", "Encide, LLC", or "encide"), take personal Information and Privacy seriously. This document describes our approach to protecting, collecting, and Using Your Information. We handle all Information in compliance with the law. Our primary commitment is securing your Data from unwanted parties and only Using Your Information in ways that are within your knowledge and acceptance. This Policy applies to all Domains that operate within the Encide business, including, but not limited to, "http://encide.com/", "http://encide.net/", "http://encide.org/", and "http://enci.de/" which are also referred to as our "Website(s)", "Site(s)", or "Domain(s)" when used under any and all Encide operations. Understanding our Terms of Use is a prerequisite to this Privacy Policy.

2.1) Collection
At Encide, we collect both personal and non-personal Information that you either provide us, or that we gather through cookies and tracking services. Information that you upload through forms on our Website includes names, emails, passwords, usernames, text, imagery, addresses, phone numbers, credit card information, and personal contact Information such as websites and social media accounts. Some sections of our Website will not require providing Information. By creating an Account, some of this Information will be required, while some is optionally provided to us. You may provide us with this Information by registering for an Account, signing up for a mailing list, following one of Encide's social media accounts, Purchasing Products or Services, or filling out any of the forms on our Website. We also collect Information about you each time you visit our Website, regardless of whether or not you have registered for an Account. This Information may include your IP address, browser type, browser version, time zone setting, operating system, platform, URL clickstreams (in and outside of our Website), errors, lengths of visits to web pages, and interactions on web pages. This Information may be gathered automatically, and is primarily for the purpose of gathering statistics to improve the experience of our Service. We also may receive Information about you from other sources. Third Parties such as analytics software companies, business partners, sub-contractors, payment providers, delivery providers, advertising networks, and SEO services may provide us with additional Information. Any Information collected from or about you, including but not limited to Personal Information and Non-Personal Information, we define as "Your Information."

2.2) Cookies
We use the WordPress software to power our Website. WordPress describes cookies as "tiny pieces of information stored on your computer, to verify who you are. There are cookies for logged in users and for commenters." These cookies are often used by many websites that require user authentication. Encide highly recommends educating yourself independently about how cookies work and what you can do to keep your Information safe and secure. You may, through most browser settings, disable or clear your cookies if you would like to.

2.3) Usage
Encide does not sell, rent, or lease its customer list, or Your Information to Third Parties. Your Information is used for, but is not limited to, the following purposes: (I) to provide the Service, (II) to administer your use of the Service and any Accounts you may have with us, (III) to personalize your experience, (IV) to provide to you Service announcements, (V) on behalf of and according to instructions of a Third Party, such as our advertising partners, (VI) to enforce our Terms of Use, (VII) to resolve any disputes between Users of the Site or between such Users and us, and (VIII) to contact you to obtain feedback from you regarding the Site and the Service. Additionally, we use non-personal information for the above purposes and in addition in order to (I) monitor and analyze Use of the Service and for the technical administration of the Site, (II) improve the Site and the Service, (III) generate and derive useful Data and Information concerning the interests, characteristics and Website Use behavior of our Users, and (IV) verify that Users of the Service meet the criteria required to process their requests.

2.4) Parties
This Policy applies only to the Site and Service. We do not exercise control over other websites that provide Information, or over banners, other advertisements or links from within the Site or the Service. These other Sites may place their own cookies or other files on your computer's browser, collect Data or solicit personal Information from you. Other websites follow different rules regarding the use or disclosure of the personal Information that you submit, and the collection and use of such Information and access of any Third Party websites are subject to such Third Party's privacy policy. We encourage you to find and read the privacy policies and other terms of such Third Parties' websites before using their services. You will be able to connect your Encide account to Third Party accounts. By connecting your Encide Account to your Third Party account, you acknowledge and Agree that you are consenting to the continuous release of Your Information about you to others (in accordance with your privacy settings on those Third Party sites). If you do not want Information about you, including personally identifying Information, to be shared in this manner, do not Use this feature. You may disconnect your Account from a Third Party account at any time. Users may disconnect their Accounts from Third Party websites by changing their settings.

2.5) Content
By submitting Content through forms on our Website, you Agree that Encide may Use any of that Content in our publications. For example, User Content from the blog comments, the private forums, and social media interactions may be used on the public blog with personally identifying Information about the User. This will be done with the intent to generate a new layer of Content from User ideas in the form of a curated discussion related to an article, Product, or Service. Our intent is also meant to be beneficial to the Users in the form of free exposure and recognition for their ideas. Encide blog authors will, in good faith, attempt to acquire a User's permission, at our discretion, for potentially objectionable Usage of User Content (for example, when opinions that may not be popular are quoted). We cannot, in all cases, reach Users due to reasons from time constraints for releasing Content to outdated contact Information from Users. In some cases, we may publish that User-generated Content without sourcing the Author, anonymously, until permission has been granted, if ever.

2.6) Links
We may present links in a format that enables us to keep track of whether these links have been followed. We have not reviewed, and cannot review, all of the Material, including computer software, made available through the websites and webpages to which Encide links, and that link to Encide. Encide does not have any control over those non-Encide websites and webpages, and is not responsible for their contents or their use. By linking to a non-Encide website or webpage, Encide does not represent or imply that it endorses such website or webpage. You are responsible for taking precautions as necessary to protect yourself and your computer systems from viruses, worms, trojan horses, and other harmful or destructive content. Encide disclaims any responsibility for any harm resulting from your use of non-Encide websites and webpages.

2.7) Children
Encide does not knowingly collect personal identifiable Information from children under the age of thirteen. If you are under the age of thirteen you must ask your parent or guardian for permission to use this Website. Encide complies with the Children's Online Privacy Protection Act of 1998 (COPPA) and takes seriously the safety and well-being of children. If a parent or guardian becomes aware that his or her child has provided us with Personal Information without their consent, he or she should contact us to take the necessary actions to securely protect or remove that Personal Information from our system.

2.8) Storage
Encide secures Your Information from unauthorized access, Use or disclosure. Website files and databases backups are frequently sent to our password protected servers. Unfortunately, the transmission of Information via the internet is never completely secure. Although we will do our best to protect Your Information, we cannot guarantee the security of Your Information transmitted to our site; any transmission is at your own risk. Once we have received Your Information, we will use strict procedures and security features to try to prevent unauthorized access.

2.9) Modifications
If you modify, replace, delete, or alter Your Information in any way, we may hold previously existing copies of that Information in our database as well as in digital backups. Any time you visit the Encide Website or fill out any forms, you are creating Information that may exist in our backed up databases and Website files. Even if you delete this Data through your Account, some remnants of that Information may continue to exist through automated or manual process in our software.

2.10) Compliance
Encide will disclose Your Information, without notice, only if required to do so by law or in the good faith belief that such action is necessary to: (I) conform to the edicts of the law or comply with legal processes served on Encide or the site; (II) protect and defend the rights or property of Encide; and, (III) act under exigent circumstances to protect the personal safety of Users of Encide, or the public. Our priority is with the well being of the greater society and law enforcement.

2.11) Transfers
If Encide ("Encide LLC") is involved in a merger, acquisition, asset sale, or enters into bankruptcy, Your Information may be transferred as a business asset. In such cases, we may provide notice before Your Information is transferred and/or becomes subject to a different Privacy Policy. Any Information you choose to share should reflect how much you want other Users of the Service to know about you. You can review and revise your Account profile Information at any time.

2.12) Reliance
The Content on our Site is provided for general information only. It is not intended to amount to advice on which you should rely. Although we make reasonable efforts to update the Information on our Site, we make no representations, warranties or guarantees, whether express or implied, that the Content on our Site is accurate, complete or up-to-date.

2.13) International
By visiting our Site, using our Service and/or providing us with Data, you acknowledge and Agree that some of Your Information may be transmitted outside your resident jurisdiction and that Your Information may be processed, maintained or transferred outside of your state, where the privacy laws may not be as protective as those in your jurisdiction.

2.14) Withdrawal
We respect your Privacy and give you an opportunity to opt-out of receiving announcements of certain Information. Users may opt-out of receiving any or all communications from Encide by following the easy-to-find unsubscribe links, or by manually contacting us if they are unable to turn off communications.

2.15) Addendums
We may post additional, ancillary privacy notices with respect to specific Products and Services. In these cases, all non-conflicting policies still apply.

2.16) Laws
In May of 2018, GDPR (General Data Protection Regulation, be the EU [European Union]) went into affect. This was followed by a similar California Consumer Privacy Act (CCPA) of 2018. Similar laws are expected to follow. These laws provide basic protection for users against companies using user data in ways that the users are not aware of. WordPress 4.9.6 and up offers GDPR compliant software. Encide uses a more current version than this, which makes us in compliance with GDPR to the best of our knowledge.
Copyright Policy
3.0) Copyright Policy
Encide creates "Original Content" while the community of Users contributes "User-generated Content" (or "UGC"). Original Content may also be crafted as a layer on top of copyrighted, yet credited Materials (to the best of Encide's ability with respects to true acknowledgment and current Information). Any and all instances where copyrighted Materials are Used to support Original Content will be carefully assessed for strong Fair Use compliance. The following sections detail (I) how we may use copyrighted Materials under Fair Use guidelines, (II) how we, in good faith, offer free exposure and crediting wherever possible, and (III) how we can be contacted if you believe that your copyrighted Materials are being Used inappropriately or if you would like to make a Digital Millennium Copyright Act ("DMCA") Takedown request. Encide will respond quickly and will respectfully cooperate will any requests or complaints. Our intent is to create discussions around topics in the design industry and culture, as well as to curate and feature Original Works that we believe are relevant to those discussions by offering supportive content.

3.1) Crediting
If you believe your copyrighted Materials have been Used on our Service without authorization, and you would like to receive appropriate crediting without filing a hefty DMCA request, please contact us through email (legal@encide.com) or our contact page. We post large amounts of inspirational Content and while we do our best to properly credit each piece of Work by scanning the artwork for Author marks or using reverse image search technologies, we cannot always find the proper attribution for all Materials. Similarly, we may improperly credit the wrong copyright holder due to human error or incorrect Information from other Services Used during our discovery process. If you discover crediting Information that is either non-existent or incorrect, please contact us with screenshots of the Materials with incorrect or missing Data and provide us with the correct Information along with any supporting evidence you may have to ensure we are providing our Users with the most accurate details possible. We prefer this route in all cases, even for cases where copyright holders simply don't want Encide to use their copyrighted work on our Website. We have a reasonable, respectful policy regarding copyright laws and we appreciate polite requests in legitimate scenarios.

3.2) Materials
Copyrighted Material ("Material(s)") includes, but is not limited to, digitalized text, images, audio, video, or any other form of Content that may be reproduced, or is valid Intellectual Property (IP). Materials used in support of Encide's Original Content may come from potentially any source and is used explicitly under Fair Use guidelines. Any copyright owner is legally entitled to make a DMCA Takedown request if they believe, in good faith, that unauthorized Materials have been Used in a way that is not protected under Fair Use laws. In regards to User-generated Content, any Information you choose to provide in a comment or a submission on the Site or the Service will be publicly available and should reflect how much you want other Users to know about you. We recommend that you guard your anonymity and sensitive Information and we encourage you to think carefully about what Information about yourself you disclose in your comments or submissions. If you disclose Your Information to others, whether or not they are Users of the Site, on our Site or through the Service or otherwise, different rules may apply to their Use or disclosure of the Information you disclose to them.

3.3) Fair Use
Encide's Original Content may on occasion contain supporting copyrighted Materials (Intellectual Property) with or without permission from the owners or Author's of the Content with significant, respectful attention paid to Fair Use laws. Each wholistic piece of Original Content that contains copyrighted Material(s) is carefully crafted to pass the four-factor balancing test which considers (I) the purpose and character of our use, (II) the nature of the copyrighted work, (III) the amount and substantiality of the portion taken, and (IV) the effect of the use upon the potential market. While this disclaimer does not necessarily exclude the rights of Copyright owner(s) who are entitled to take action and make claims of infringement if they desire, our hope is to come to an agreement regarding any disputes with little or no legal action.

3.4) Intellectual
You acknowledge and Agree that we and our licensors retain ownership of all intellectual property rights of any kind related to the Service, including applicable copyrights, trademarks and other proprietary rights. Other product and company names that are mentioned on the Service may be trademarks of their respective owners. We reserve all rights that are not expressly granted to you under this Agreement.

3.5) DMCA
The Digital Millennium Copyright Act (DMCA) offers protection for copyrighted Works from infringement. We take copyright laws seriously at Encide, and we bring urgent attention to incidents involving alleged infringement through the Service. You are encouraged to familiarize yourself with the DMCA in entirety at http://www.copyright.gov/legislation/dmca.pdf or on Wikipedia. If you are a copyright owner or an agent thereof and believe, in good faith, that any Materials provided on the Service infringe upon your copyrights, you may submit a notification pursuant to the Digital Millennium Copyright Act (see 17 U.S.C 512) ("DMCA") by sending the following Information to Encide through email (legal@encide.com) or on our contact page.
The date of your notification;
A physical or electronic signature of a person authorized to act on behalf of the owner of an exclusive right that is allegedly infringed;
A description of the copyrighted Work claimed to have been infringed, or, if multiple copyrighted Works at a single online Site are covered by a single notification, a representative list of such Works at that Site;
A description of the Material that is claimed to be infringing or to be the subject of infringing activity and sufficient Data to enable us to locate such Work;
Information reasonably sufficient to permit the Service provider to contact you, such as an address, telephone number, and/or email address;
A statement that you believe that Use of the Material in the manner complained of is unauthorized by the copyright owner, its agent, or the law; and
A statement that the Information in the notification is accurate, and under penalty of perjury, that you are authorized to act on behalf of the owner of an exclusive right that is allegedly infringed.
Encide will respond to all valid DMCA Takedown requests within 10 days of receiving the request. If you do not hear a response from us within a 10 day period, please resend the email to our other email address (mail@encide.com) to ensure that we receive your complaint. Spam blockers may prevent our email reception.

3.6) Recurrence
Encide respects the intellectual property rights of others and requests that the Users do the same. Pursuant to 17 U.S.C. 512(I) of the United States Copyright Act, Encide has adopted and implemented a Policy that provides for the termination in appropriate circumstances of Users of the Service who are repeat infringers. Encide may terminate access for participants or Users who are found repeatedly to provide or post protected Third Party Content without necessary rights and permissions. Encide holds a strict policy regarding copyright infringement we discover, and we will likely terminate Users before there are multiple recurrences.

3.7) Opposition
If you believe that your User-generated Content ("UGC") that has been removed from the Site is not infringing, or that you have the authorization from the copyright owner, the copyright owner's agent, or pursuant to the law, to post and Use the Content in your UGC you may send a counter-notice containing the following Information to our copyright agent using the contact information set forth above:
Your physical or electronic signature;
A description of the Content that has been removed and the location at which the Content appeared before it was removed;
A statement that you have a good faith belief that the Content was removed as a result of mistake or a misidentification of the Content; and
Your name, address, telephone number, and email address, a statement that you consent to the jurisdiction of the federal court and a statement that you will accept service of process from the person who provided notification of the alleged infringement.
If a counter-notice is received by Encide copyright agent, Encide may send a copy of the counter-notice to the original complaining party informing such person that it may reinstate the removed Content in 10 business days. Unless the copyright owner files an action seeking a court order against the Content provider, member or User, the removed Content may (in Encide's discretion) be reinstated on the Site in 10 to 14 business days or more after receipt of the counter-notice.
Definitions
The following words are used repeatedly throughout this document. For example, the word "Service" is used in many sections within the Terms of Use and both of our Policies. When the word Service appears, in Uppercase form, it is being used as it was specifically defined to prevent potential misinterpretations of the word. For your convenience, we have put together the most common of our defined words with a brief clarification of each one, an index of their original location(s), and any alternative spellings, initials, acronyms, abbreviations, variations, singular forms and plural forms that may be used with the same intent or meaning.

Encide
"Encide" (and all alternative spellings, acronyms, variations, and formats) refers to our legal entity, Encide LLC.
(Section 1.0) (Also referred to as "encide", "Encide, LLC", "Encide, L.L.C.", "Encide LLC", "Encide L.L.C.", "Encide, llc", "Encide, l.l.c.", "Encide llc", "Encide l.l.c.", "ENCIDE, LLC", "ENCIDE, L.L.C.", "ENCIDE LLC", "ENCIDE L.L.C.", "encide, llc", "encide, l.l.c.", "encide llc", "encide l.l.c.", "We", "we", "Us", "us", "Our", "our", "Ours", or "ours")

Terms
"Terms" (and all alternative spellings, initials, acronyms, abbreviations, and variations) refers to our "Terms of Use" document. For example, the words "Agreement" and "Service" are some of the valid, listed variations that Encide may use interchangeably with "Terms" as they generally all refer to the same idea.
(Section 1.0) (Also referred to as "Terms of Use", "ToU", "Terms of Service", "ToS", "Terms & Conditions", "T&C", "Service", "Services", "Accept", "Accepted", "Accepting", "Aprove", "Aproval", "Aproving", "Agree", "Agreed", "Agreeing", "Agreement" or "User Agreement")

Policies
"Policies" (in singular or plural forms and all alternative spellings and variations) refers to both our "Privacy Policy" and "Copyright Policy" documents.
(Sections 1.15, 2.0, and 3.0) (Also referred to as "Policy", "Privacy Policy", or "Copyright Policy")

Services
"Services" (in singular or plural forms and all alternative spellings and variations) refers to, but is not limited to, all usage of Websites, Goods, Products or Services made available by or through Encide systems.
(Section 1.0) (Also referred to as "Service", "Network", "Networks", "Operation", "Operations", "Use", "Uses, "Using", or "Usage")

Privacy
"Privacy" (in singular or plural forms and all alternative spellings and variations) refers to our "Privacy Policy" document.
(Sections 1.15 and 2.0) (Also referred to as "Privacies" or "Privacy Policy")

Users
"Users" refers to any individuals who Use Encide Services or Products in any way. Individuals with registered Accounts are also considered Users.
(Section 1.2) (Also referred to as "User", "Member", "Members", "Account", "Accounts", "Profile", "Profiles", "Customer", "Customers", "Enciders", or "Outciders")

Accounts
"Accounts" refers to what registered Users create and use in order to access additional features of the Encide Service. Account owners are also Users.
(Section 1.2) (Also referred to as "Accounts", "Member", "Members", "User", "Users" "Profile", "Profiles", or "Enciders")

Content
"Content" (in singular or plural forms) refers to anything featured or displayed through the Website or Service, which includes, but is not limited to, documents, information, text, data, articles, opinions, images, photographs, graphics, software, applications, video recordings, audio recordings, sounds, designs, features, and other materials that are available on the Website or Service. Content includes, without limitation, Original Content and User-generated Content, which may be submitted by any Encide user.
(Sections 1.4, 2.5, 3.0 and 3.2) (Also referred to as "Contents", "Work", "Works", "Material" or "Materials")

Material
"Material" (in singular or plural forms) is, in most cases, virtually interchangeable with "Content" as is define above. The only minor difference between the two is that Material offers a stronger emphasis on externally produced Contents outside of the Encide Service, Products, and network.
(Sections 3.0 and 3.2) (Also referred to as "Materials", "Work", "Works", "Content" or "Contents")

Websites
"Websites" (in singular or plural forms) refers to all domain names owned by Encide which includes, but is not limited to, "http://encide.com/", "http://encide.net/", "http://encide.org/", "http://enci.de/", and any other potential domains that may or may not be made public.
(Section 2.0) (Also referred to as "Website", "Site", "Sites", "Domain" or "Domains")

Shop
"Shop" (in singular or plural forms) refers to the Encide E-commerce platform that offers both physical and digital Goods, Products and Services available for sale in most cases and occasionally for free in special cases for digital Products.
(Section 1.9) (Also referred to as "Store" or "Market")

Products
"Products" (in singular or plural forms) refers to potentially any form of Content or Material made available through Encide's Service. Most often, the word Product is referring to items that are made available for sale, and occasionally for free, through our online Shop platform.
(Section 1.9) (Also referred to as "Product", "Service", "Services", "Work", "Works", "Content", "Contents", "Good", or "Goods")

Purchases
"Purchases" (in singular or plural forms) refers to transactions completed through our online Shop platform or potential Third Party sellers and gateways.
(Section 1.9) (Also referred to as "Purchase", "Transaction", "Transactions", "Pay", "Pays", "Paid", "Paying", "Payment", "Payments", "Sale", "Sales", "Order", or "Orders")

Third Party
"Third Party" (in singular or plural forms) refers to any person or group aside from the two primarily involved (one of which being Encide).
(Sections 1.13, 1.16, 1.20, 2.3 and 2.4) (Also referred to as "Third Parties" or "Parties")

Code of Conduct
"Code of Conduct" refers to the community guidelines that all Users must abide to in order to maintain a healthy status on their Accounts.
(Section 1.3) (Also referred to as "Code", "Codes", "Conduct", "Codes of Conduct" "Community Guidelines", "Guidelines", "Standards" or "Rules")

Your Information
"Your Information" refers to any Data collected from or about you, including but not limited to Personal Information and Non-Personal Information as you (1) Use the Service, (2) submit any fields or forms, or (3) produce User-generated Content. Our Privacy Policy details how we collect and Use Your Information.
(Sections 2.1 and 2.3) (Also referred to as "Information", "Your Info", "Your Data" and "Data")

Original Content
"Original Content" refers to all Content, Materials, Products and Services owned or created by Encide.
(Section 3.0) (Also referred to as "Original Contents", "Encide Content", "Encide Contents", "Encide Property", "Encide Property", "Intellectual Property" or "IP")

User-generated Content
"User-generated Content" refers to all Content or Materials produced by Encide Users or Account holders.
(Section 3.0) (Also referred to as "User-generated Contents", "UGC", "User Material", "User Materials", "User Content" or "User Contents")
Amendments
This is a log of noteworthy and succinct amendments to our Terms and Policies.
2008/04/14: Our first Registration Agreement (the SMF version, Section 1.3) was put into effect on the encide.net domain.
2016/05/26: Our (1) Terms of Use, (2) Privacy Policy, and (3) Copyright Policy were first put into effect on the encide.com domain.
Without guarantees, requests for previous versions may be made available if asked for. We do our best to archive previous versions of our Terms and Policies through regular, automated backups of our Website. Most amendments are likely to be minor technical improvements or updates to acknowledge new laws.
Questions?
If you have any questions for Encide about any of these Terms or Policies, feel free to contact us for clarification and we will respond in a timely manner. Your question(s) may have already been asked and answered in our FAQ's, so we would appreciate it if you took the time to review that page first before asking us. Alright, that's all! No more legalese. Congratulations! You survived our least interesting page, even though you probably just quickly scrolled to the end. :P